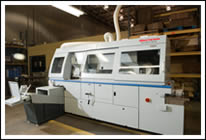 If you are ready to make a statement with your work, a hardcover book may be an excellent option for you to pursue. Today's market there is no reason for an author or artist to compromise on superior quality, so why should you?
Hardcover book printing can be an excellent solution for an array of book types, such as:
Wedding albums
Portrait sessions
Baby photography
Coffee table books
Cookbooks
Fine art books
Portfolios
High-end proof books
Novels
Non-fiction books
In addition to our other printing services, Gasch offers custom hard cover book printing for your project. Hardcovers are protective, sturdy book covers with securely fastened bindings. Our cost-effective services place beautifully-bound, hardcover books within your reach.
No matter what type of project you are interested in printing, know that the end result will be a gorgeous, securely-bound, custom and professional quality book that will showcase your work brilliantly and stand the test of time.
Options at Your Fingertips
When it comes to printing hardcover books the options and possibilities are endless. Dust jacket or no dust jacket? Full-color or black and white? What type of binding is best for your project? You have a plethora of choices at your fingertips and our trained customer care representatives are ready to answer all of your questions and accommodate your requests every step of the way. Gasch offers an array of sizes and layouts, such as horizontal, vertical, and square formats as well as several different binding options to create flawless products and ensure your book's longevity.
Green Initiatives
At Gasch, we have several processes in place that allow us to provide recyclable materials for our books and assume responsibility in our practice in taking care of the environment. We do this in many ways, such as:
Offering short-run book printing. As with our paperback options, short-run printing for hardcover books is also available. This allows authors to print only what they need, when they need it, reducing waste and unused materials.
Our line of Eco Pride paper and inks.  100% post-consumer and 100% recycled paper options, as well as 100% vegetable oil-based inks, allow us to meet all of your print needs with the most environmentally-sensitive materials available on the market.
Our partnership with Trees for the Future. Gasch offsets its carbon emissions by planting over 2,000 trees per year through its partnership with Trees for the Future, a charitable organization that not only plants trees for environmental purposes, but also to benefit people in need. They take great care to integrate farming, animals, people and trees in the same space to improve soil quality, crop yields, and to raise standards of living in areas that need it most.   
It's a New Day in Printing
This is an exciting time in the print industry, and we are delighted to be a part of it all. Never has hardcover book printing been so accessible and affordable as it is today. Unleash the power of Gasch's technology and expertise for your hardcover printing needs.